For so long, I have heard nothing but good things about Spectrum's makeup brushes. Naturally I was over the moon when I managed to get my hands on this 5 Piece Spectrum Marbleous Sculpt set! Not only are these brushes extremely soft, but they also look amazing on my dressing table.
This collection comprises of five brushes: A00, C07, A02, C02, and A05.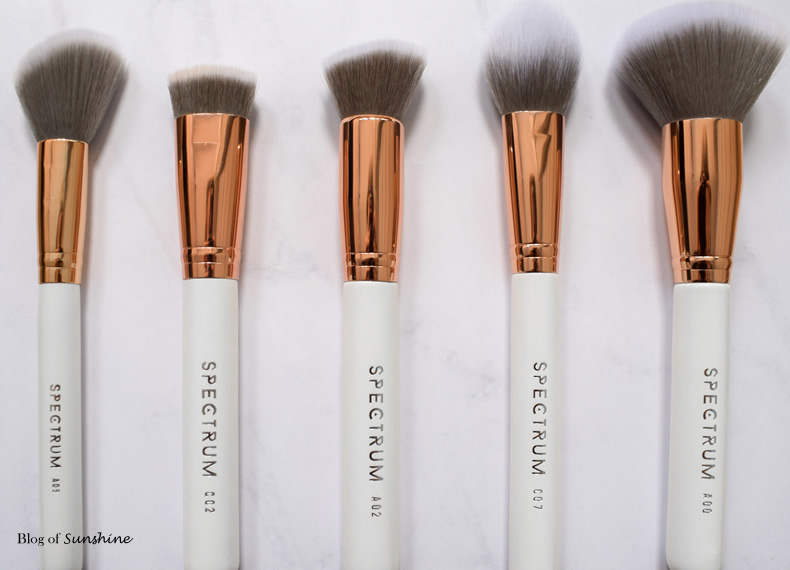 A00 – Luxe Powder Brush
The A00 Luxe Powder Brush is the largest of this set, and is perfect for applying the finishing touches to your face. I have mainly used this brush for applying my powder, and also for adding a soft bronze to my forehead. The A00 is soft, but not so soft that it can't pick up enough of the product.

C07 – Luxe Tapered Sculpter Brush
This tapered sculpting brush reminds me of the Real Techniques Contour Brush, however, the C07 is not only bigger, but it is also fluffier, more tapered, and better. I have been using the C07 to add my blush, and if needed, to add some more bronzer to my cheekbones. It picks up just the right amount of product and I find it to be a good size for the apples of my cheeks. Definitely my new favourite for blush!

A02 – Angled Foundation Brush
Personally, I am not the biggest fan of applying my foundation with a brush – I'm very loyal to my Beauty Blender! However, this foundation brush has convinced me. It eliminated any cakeyness and streaks that foundation brushes normally haunt me with. It applied an even finish that is also buildable.

C02 – Flat Top Contour Brush
I found this brush to work great alongside the A02. Whereas the Angled Foundation Brush can be used quickly, I would definitely recommend you spend more time applying cream products with this C02. It leaves a nice even coat of product and no streaky lines.

A05 Precision Brush
The A05 Precision Brush is definitely my favourite of the five! This contour brush is absolutely amazing. The brush is fluffy enough to blend my contour to look natural, but also just the right density to leave my cheekbones still looking really sharp.

To Summarise
If you are on the fence about purchasing this Spectrum Marbleous Sculpt Set, I would definitely recommend you take the plunge. These brushes are extremely high quality, affordable, and totally ~instagrammable~.
The cherry on top? All of Spectrum's products are Vegan and completely Cruelty Free!